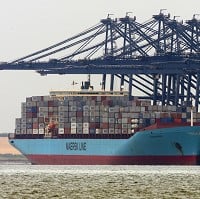 Work is needed on the UK's road and rail infrastructure to prevent freight being delayed to and from some of the country's busiest sea ports, MPs say.
The House of Commons Transport Committee is calling on the Government to help make "significant improvement to strategic networks" and to not expect the operators of the ports to pay for it.
The committee has identified many problems, such as local road bottlenecks between motorways and the ports of Liverpool, Heysham in Lancashire and Hull, the largest port when it comes to tonnage.
Meanwhile, the Suffolk coastal town of Felixstowe has a big container port but just a single-track branch rail line and road freight can be held up by congestion on the A14.
Louise Ellman is the chair of the House of Commons Transport Committee. She confirmed the Department for Transport is working on a new strategy for Britain's ports but called on ministers to make it clear how it will seek to remove the current constraints which the transport infrastructure is placing on them
RAC spokesman Simon Williams said: "The nation's roads are intrinsically linked to the economy and it is really counter-productive for hauliers and port operators if lorries are getting stuck on inadequate local road networks just a few miles from their destination.
"This is not an issue solely for HGVs however but for all motorists. The effect of lorries getting caught up in traffic of course has a negative impact on the rest of the road network, so it is in the interests of business, HGV operators and the motorist to find a solution.
"The more that is done to improve the network, the easier it is for companies to do business and for motorists to get to work and spend money as consumers. The significance of our roads was made even more apparent earlier this year when second quarter traffic statistics showed a 4.9% increase in motorway traffic at the same time as GDP grew.
"In fairness to the Government, they are looking to address many local pinch points, but we hope this is extensive enough to make a real difference to day-to-day journeys."
Copyright Press Association 2013