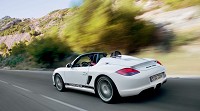 The Boxster Spyder has been unveiled by Porsche - their lightest model ever.
The new model can go from 0 to 62mph in 4.8 seconds, and has a top speed of 166 mph even with the roof off.
The performance has been improved by adding 10 brake horsepower to the engine's performance, leaving it at 320 bhp overall, and by lopping 80 kilos off its weight.
Consumption now stands at a greener 30.4 mpg, although cardon dioxide emissions have not been announced - the savings are apparently down to the introduction of Porsche's unique PDK dual-clutch auto gearbox.
The Spyder, which is designed for open top driving has a distinctive look and has been lowered by 20mm.
Inspired by the 1953 Porsche Spyder, the Boxster Spyder will set you back £44,643 when it goes on sale in February 2010.
Copyright © Press Association 2009