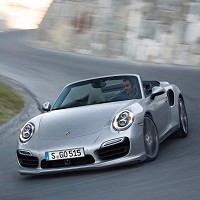 Porsche and Jaguar have replaced Toyota and Citroen to become two of the 10 most popular car brands that UK consumers have been viewing on the internet.
Greenlight, an independent digital marketing agency, reveals that the German and British automakers have both grown in popularity of late.
In its latest automotive search data, which identified the most popular search terms and phrases consumers used when they searched on Google UK for cars in November, 'Porsche' and 'Jaguar' crept into the top 10.
Skoda, which had not featured among the leading 10 in the previous quarter, also made an appearance in November.
Over 11 million searches were made by consumers looking for cars online in the latest quarter, up by almost 5% on the previous three months.
'BMW' and 'Audi' were the two most queried terms overall, pulling in 368,000 searches each as they retained joint first place.
'Mercedes' followed in second, while 'Vauxhall' took third spot.
Search-wise, demand for the term 'Peugeot' enjoyed a 22% rise on August levels to see it move up a notch, joining 'Volkswagen' and 'Ford' as the fourth most popular automotive-related terms.
Copyright Press Association 2013