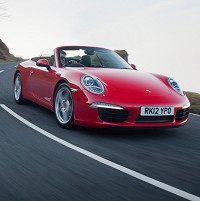 Porsche may have an illustrious record in the motor sport hall of fame, but a new study has claimed that the German sports carmaker is also the slowest when it comes to losing value.
Industry specialist CAP analysed more than 40,000 new-spec models in the UK and found that Porsches top the table of the sports cars that retained their value the longest after purchase.
The new Porsche 911 Carrera Cabriolet topped the table with a 'future trade sale' of 55.3%, while its stable mate Boxster is predicted to retain 51.9% of its original value.
The Stuttgart-based luxury carmaker released the Porsche 911 Carrera Cabriolet late last year and combines the efficiency of flat-six engines with benchmark driving dynamics and iconic design.
Porsche has retained its reputation as a robust car manufacturer that seldom requires abreakdown response and features the best of German efficiency, with around two-third of all Porsches ever built thought to remain on the roads today.
Copyright Press Association 2012