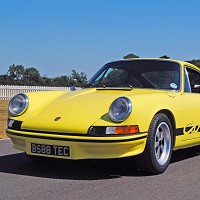 A Porsche that's increased in price by 669% over the last decade has topped a new motor investment chart.
The 911 Carrera RS 2.7 would have set a buyer back £65,000 in 2004 - but today the model sells for a massive £500,000, according to research from the Discovery Channel.
The TV channel, which researched to decide the 100th car to feature on its Wheeler Dealers show, also found that the Aston Martin DB5 and DB6 were sound investments. The cars, synonymous with fictional spy James Bond, have risen in price by 500% and 478% respectively.
The best mass-produced investment has been the Land Rover Series I - the original model which set the blueprint for success of the 4x4 brand. The car was valued at £6,000 in 2004 but has risen to £20,000 today.
Other luxury cars in the top 10 investments include the AC Cobra and models from Ferrari, Lotus and Jaguar.
Meanwhile the Rolls-Royce Silver Shadow fell in value from £12,000 to £8,000.
A spokesman from the Discovery Channel said the research shows there is still a fierce appetite for vintage vehicles in the UK. While the insurance costs for many vintage cars are high, the research shows there is potential to make serious money.
Copyright Press Association 2014