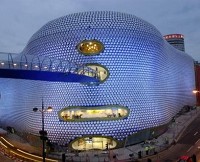 The UK's public transport system is inadequate to meet the needs of the population, a report by a leading environmental pressure group has claimed.
The investigation, carried out by the Campaign for Better Transport, scored no region of the country higher than a C plus, with the West Midlands achieving an especially dismal E minus. Researchers there said public transport was blighted by late trains, cancellations and over-dependence on cars.
Coming top of the table with a C plus, the group said the North West had a good tram network, punctual trains and positive cycling initiatives, but could still do better.
Campaign for Better Transport executive director Stephen Joseph said: "Car dependency is hurting people's health, communities and the environment. Our new scorecard shows that while car dependency is a big problem it is not inevitable.
"In each region, there are initiatives helping to reduce car dependency. But more needs to be done. We want local councils to take action in their upcoming local transport plans and spend on projects that will make it easy for people to get out of their cars, and we want the Government to set policies and funding so that car dependency is reduced."
Copyright © Press Association 2009