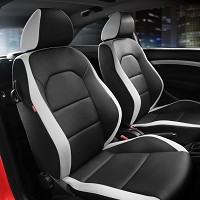 Drivers are putting their health at risk by sitting in the wrong position, physiotherapists have warned.
The Chartered Society of Physiotherapy (CSP) claims people who commute by car on a daily basis could face problems in the future if they fail to adjust their seat and steering wheel to suit their individual needs.
What seems like minor discomfort can lead to something more serious if left untreated, including musculoskeletal problems such as back and neck pain, so motorists are being encouraged to take action before it is too late.
The CSP has produced a step-by-step guide entitled 'Drive Free of Pain' that includes advice for drivers on ensuring they have the correct car set-up, ways to improve posture, and some simple stretches for when drivers take a break from the wheel.
The latest census figures for England and Wales show that almost two-thirds of workers - around 15.3 million - commute by car, meaning millions could be at risk of future health problems due to driving in the wrong position.
Copyright Press Association 2014