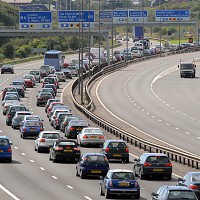 The Government has failed to bring down air pollution, with emissions of pollutants even increasing last year, MPs have found.
The Environmental Audit Committee (EAC) said the coalition failed to cut nitrogen dioxide pollution, and some parts of the UK would not meet targets until 2030.
Ministers also received a red rating for failures to prevent flooding and protect nature, as well as seven amber warnings for shortcomings in other areas.
None of the 10 environmental policies examined by the EAC was given a green rating.
MPs are now calling for an independent Office for Environmental Responsibility which could advise the Government on how to meet environmental targets, implement policies, and monitor performance.
Joan Walley, chairwoman of the EAC, said the findings show that "further and continued effort" is necessary to protect the environment - despite David Cameron's promise that this would be the "greenest government ever". She also urged an extensive environmental strategy.
Copyright Press Association 2014