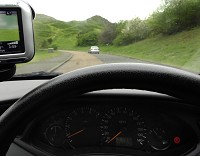 New research shows female drivers know a thing or two about their cars, debunking several stereotypes about women and their wheels.
Around 44% of women discuss cars with their friends and 64% watch the Top Gear television programme, a survey from a car insurance company shows.
Nearly three quarters (73%) of respondents said they knew how to check their vehicle's oil and water levels and tyre pressures.
Economy and price were decisive factors when purchasing a car, with less than 3% of women saying they would choose a car depending on its colour.
The poll by Diamond, found that the number of women keeping a torch (15%) and road map in the car (12%), was more than than the number keeping make up in the glove-compartment (8%).
Company spokeswoman Sian Lewis said: "Our research shows many of the stereotypes you hear about women drivers are very much outdated and un1.
"Today's generation of women drivers keep up to date with the motoring world, make informed motoring choices and take efforts to look after their wheels."
Copyright © Press Association 2009