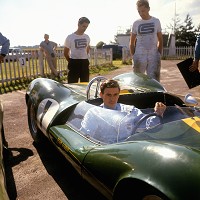 Scottish racing legend Jim Clark has come top in a new poll to find Britain's favourite Formula One world champion.
Born into a Fife farming family, Clark raced to victory in 25 Grand Prixs and won the prestigious Indianapolis 500 in 1965 before being tragically killed in a Formula Two motor racing accident in Hockenheim, Germany, in 1968.
The 1963 and 1965 Formula One world champion built up an early lead in the poll and ended up with almost third (31.5%) of the overall vote.
Second in the online poll, run by Telegraph Motoring in association with Motor Sport magazine, was Nigel Mansell, a charismatic racer famous for his bushy moustache.
Mansell, winner of the Formula One championship in 1992 and remembered for his titanic battles with rival Ayrton Senna, picked up 13.1% of the vote.
Sir Stirling Moss finished in a well-deserved third place with 10.9% despite famously never having won the F1 title after being piped to the post in four straight seasons.
The UK's total of 10 F1 champions dwarfs their closest rivals Brazil and Finland, both of whom have three champions each.
In historical order, the 10 British F1 champions are: Mike Hawthorn (1958), Graham Hill (1962 and 1968), Jim Clark (1963 and 1965), John Surtees (1964), Jackie Stewart (1969, 1971 and 1973), James Hunt (1976), Nigel Mansell (1992), Damon Hill (1996), Lewis Hamilton (2008), Jenson Button (2009).
Copyright Press Association 2012