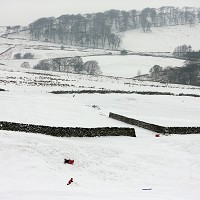 Police threatened to take away a driver's licence after a "snow tubing" occurrence in Derbyshire, and have warned against the risks of the winter daredevil exploit, whereby a car tows a tyre on icy roads while someone sits in the tyre.
Calling the incident "dangerous", the Derbyshire police warned others and said the incident could have killed the people involved, as well as those nearby. It could also invalidate car insurance.
On Monday the police received three calls about the towing, which was being filmed from inside the car, and the 22-year-old Woodville man driving the Audi A3 was caught by Derbyshire police.
They issued him a Section 59 warning that would enable police to seize the man's car if they caught him offending in the same way a second time.
A Derbyshire police spokesman said: "We tracked them down and gave the driver serious words of warning and issued him with a section 59 warning. It means if he is caught doing this again his car will be seized.
"This should be a warning to others that it is not a sensible thing to do. In fact, it is a very dangerous this to do."
Copyright Press Association 2013