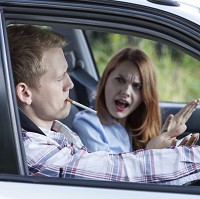 Smoking motorists could divert Scottish police's war on terrorism, the country's law enforcement leaders fear.
Holyrood Liberal Democrat Jim Hume has called for smokers to get £100 fines if they smoke while children under 18 are in the car.
This MSP's proposed ban, which has the Scottish Government's support but is yet to be approved, has sparked concern from Police Scotland , however.
The force believes that enforcing such sanctions could distract officers from the fight against organised crime and terrorists.
Top leading officials will give evidence when the Bill goes to the Scottish parliament's health committee.
Iain Murray, Chief Superintendent, and Bernard Higgins, Assistant Chief Constable, are expected to echo an earlier warning from Scottish lawyers, who have already claimed the move could be problematic to enforce .
In February MPs south of the border approved the in-car smoking ban by 342 votes to 74. This followed specialists' claims that roughly 430,000 minors get exposed to second-hand cigarette smoke in cars on a weekly basis.
Welsh Assembly members voted for the measure after being given the chance to have their say earlier this month. The sanctions will be introduced in October to coincide with England's.
Police Scotland says it supports the proposed Bill in principle, but wants MSPs to "carefully" look at proposals to make it the only authority to enforce any new law.
The body questioned whether it is "necessary" or "proportionate" to warrant using the country's restricted police resources on enforcing the ban.
It said that the planned new law, while "commendable" would "only" have repercussions on Scotland's public health.
Police Scotland claimed such enforcement sits "uncomfortably" within its priorities and policing plan. It used counter terrorism and organised crime as two examples of resources being better targeted.
The force's road traffic officers' concentration is on combating road crime and lowering highway accidents, Police Scotland added.
It said that there is not much, if any, spare capacity for public health matters even within such a wide remit.
Copyright Press Association 2015