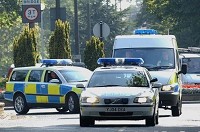 Police officers are being told to avoid "excessive" revving and to drive slowly to help protect the environment.
Forces across the country are being given new training which advises drivers to accelerate gently and use engine braking, as well as limiting the use of air conditioning to help cut fuel consumption and reduce emissions.
The "eco-driving" measures have been included in the driver training programme published by the Association of Chief Police Officers (Acpo), telling drivers to "demonstrate an awareness of the main factors which can assist in the reduction of fuel consumption".
However, the document stresses that the measures are not intended for emergency situations, but for general driving duties.
Assistant Chief Constable Ian Shannon, Acpo lead for driving standards, said: "As we act against crime and disorder, like other organisations, the police service aims to deliver value for money to the public it serves and, where possible, preserve the environment.
"Lower fuel consumption means both cost savings and lower emissions."
Copyright © Press Association 2009