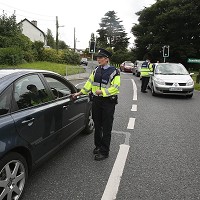 Police across Scotland have started a three-day crackdown on uninsured motorists.
Those driving without valid car insurance could have their car seized and be fined up to £5,000, while drivers without a valid driving licence might have to pay up to £1,000 in fines.
Both offences could result in up to eight penalty points, and far worse.
Motorists could also be pulled over if they drive without wearing their seat belt or use their mobile phone behind the wheel.
Chief Inspector Sandy Bowman, Head of Road Policing at Tayside Police, said: "These campaigns are essentially about providing education and enforcement in respect of road safety.
"They provide an opportunity to remind drivers that they are risking having their vehicle seized and subsequently crushed if they are caught driving any type of vehicle without a licence or insurance.
"Tayside Police have been using these powers for six years now, and in that time they have proved to be an invaluable tool in removing vehicles from our communities which are a potential danger to us all."
It is estimated that there are around 1.2 million uninsured drivers in the UK.
Copyright Press Association 2012