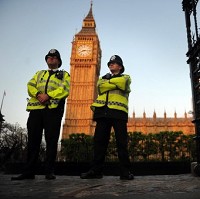 Police were forced to smash the window of a car and arrest a woman who attempted to enter the House of Commons to talk with an MP.
The red Volkswagen was prevented from gaining full access to the parliamentary estate by a security ramp. The driver, around the age of 40, demanded to see a government official before she was detained by officers.
The incident occurred as the House voted on contentious legislation allowing same-sex marriage. It is unclear whether the two events were related.
A Scotland Yard spokesman said the woman was halted by police after entering the Carriage Gates. After a short conversation, she locked herself inside the car and refused to move.
"A short time later, officers broke a window of the car and the woman was arrested for trespass on a designated site," the spokesman added.
Copyright Press Association 2013