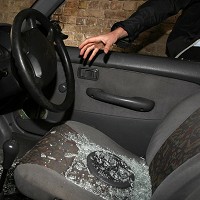 Motorists in Peterborough are being warned not to leave their sat-navs, handbags and money in their cars following a rise in theft from vehicles in the area.
Sixty people in the city have had items stolen from their cars between July 20 and August 7, with those in the area of North Bretton suffering the most incidents.
As well as valuables being stolen, registration plates have also been taken and diesel siphoned from vehicles.
Inspector Rob Hill commented: "We are working to reduce vehicle crime, however, we need the public's help if we are to make more of an impact. If motorists continue to leave valuable items in their cars and vans, the problem continues.
"Having your car broken into is not only costly but also time consuming. Our very strong advice is to remove all valuable items from your car, and leave the glove box open before leaving it unattended."
To help reduce the risk, drivers should do the following:
:: Do not leave valuables in the vehicle
:: Lock the car doors
:: Empty the glovebox and leave it open so thieves can see there are no valuables inside
:: Never leave a car running and unattended
:: Ensure they have comprehensive car insurance so they are covered if they do become a victim of car crime.
Copyright Press Association 2012