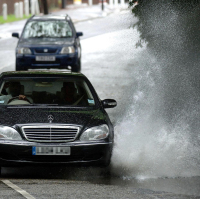 Police are looking for a motorist who was filmed allegedly deliberately driving a car through a large puddle to splash pedestrians.
The incident in north London was captured on film by radio newsreader Zora Suleman.
She says the 4x4 had driven "really close" to the kerb in Kentish Town, splashing people on the pavement.
The LBC newsreader says she began filming when she realised that the male motorist had stopped, turned around and was going to drive past again.
She says while it may have been "fun" for the driver, the incident had left an elderly woman visibly upset.
The footage shows the car driving through the water, sending it splashing over the pavement.
It is thought that the same driver may be responsible for a spate of similar incidents in the area over the last few months.
It has been reported that the 4x4 featured in the footage is not registered.
A spokesman for Scotland Yard says officers are investigating the incident after being contacted about an allegation of someone driving without due care and attention in Kentish Town.
Copyright Press Association 2016. Motoring News articles do not reflect the RAC's views unless clearly stated.