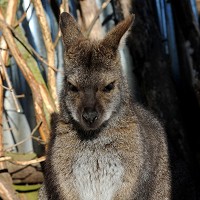 Police had to close a busy road during the evening rush hour on Thursday to capture a wallaby on the loose.
It took 15 officers to secure the animal, which original sightings had suggested was a kangaroo.
However, upon arrival the officers found they were dealing with a wallaby that had escaped from Askham Bryan College in York.
Police had to shut part of the A1237 joining Haxby and Strensall while they set about capturing the escapee.
The officers cornered the animal near the North York bypass and a vet used a tranquilliser dart to help them grab it. Staff from the college were also present.
The road was later reopened and the wallaby was taken back to the college.
Inspector Richard Mallinson said they needed to catch the wallaby as soon as possible as it could have jumped into the road and caused an accident.
The animals are not usually found in Britain, although colonies are known to live in the Lake District and near Loch Lomond. A wallaby was seen in Highgate cemetery in London last year.
Insp Mallinson says his officers were not able to use a Taser to stop the animal as it could have angered it or even killed it.
Copyright Press Association 2014