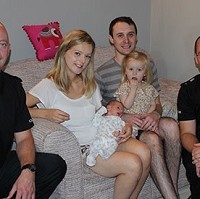 Two policemen called out to reports of a vehicle breakdown found themselves helping to bring a baby boy into the world as well.
Suffolk Police officers Jerry Cohen and Andy Masterson were heading towards Orwell Bridge near Ipswich in the early hours of July 1 when they saw a man waving his arms.
The man, Andrew Mackie, got them to stop and explained how his wife, 33-year-old Holly Mackie, was in labour in their car.
Just seconds after they arrived at the car they helped her give birth to 7lb 5oz Rupert William Mackie.
They were simply in the right place at the right time, according to Pc Masterson. He says both he and Pc Cohen are fathers and have a certain amount of knowledge of how to approach the birthing process.
They wrapped Rupert in a foil blanket and kept him warm until an ambulance was able to reach them.
Rupert is doing well and becomes the Hadleigh couple's second addition following two-year-old daughter Rose.
Copyright Press Association 2014