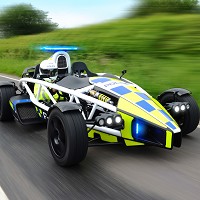 Car thieves often foolishly think they can outpace police cars, but they may think again if they see Avon and Somerset Constabulary's own Ariel Atom in their wing mirrors.
The UK supercar manufacturer has produced a police version of its latest Atom, the 3.5, to publicise the force's Safer Rider initiative.
Although it hasn't been made to chase speeding criminals, the Atom PL1 is capable of going from 0-60mph in just 2.5 seconds thanks to its 350bhp supercharged 2.0-litre engine built by Honda, and the police version is no different.
It is quick enough to rival the majority of superbikes on the market and Ariel has added the force's livery, pursuit lamps and extra safety technology.
The car will be used to promote road safety and it is hoped it will help cut the number of motorcycle riders who are killed or seriously injured on the roads of the region, Sergeant Andy Parsons said.
The Atom will be on display at the launch of the campaign on Sunday at Haynes Motor Museum in the Somerset village of Sparkford between 10am and 4pm.
Copyright Press Association 2014