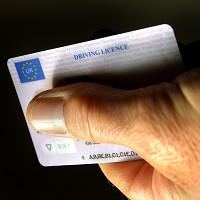 Poor eyesight has seen hundreds of motorists have their driving licences revoked, reveals the Press Association.
Data obtained by the news agency under the Freedom of Information Act shows police are getting tougher on drivers who fail roadside eye tests, following the introduction of 'Cassie's Law' two years ago.
Forces across the UK have applied 631 times to revoke licences based on failed attempts to read number plates since then, succeeding in 609 cases.
Jackie Rason, the mother of Cassie McCord, says the powers have potentially saved dozens of lives.
Cassie, 16, died in 2011 from serious head injuries when an 87-year-old man lost control of his vehicle in Colchester.
He had failed a police eyesight test days earlier but a legal loophole meant he was allowed to continue driving.
Ms Rason fiercely campaigned for a change in the law, which led to the introduction of the powers in 2013.
An officer who feels the safety of other road users will be put at risk if a driver remains on the road can request an urgent revocation of the licence through the Driver and Vehicle Licensing Authority (DVLA).
There are three levels of revocation - immediate, within 48 hours, and postal - under the new system.
Police previously had to write or fax a request for licence removal. But this process could take several days.
They can now telephone or email. It all means the DVLA has the authority to revoke licences quicker.
Banned motorists who continue to drive will be committing a criminal offence. This may lead to their arrest and their vehicle being seized.
Copyright Press Association 2015