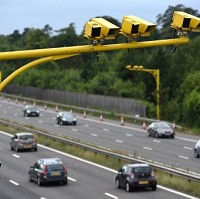 The Prime Minister has dismissed a police chief's plans to have 24/7 speed cameras operating on the motorway in order to raise money for his force.
Olly Martins, Bedfordshire Police and Crime Commissioner, says the initiative, which he believes could raise around £1 million, would prevent the county losing some 25 officers.
The RAC says the plan reinforces the public's belief that speed cameras are there primarily as a way for the police to raise money rather than for the public's own safety.
Motorists travelling on the M1's Bedfordshire stretch (junctions 10-13) would face a "zero-tolerance" attitude to speeding under Mr Martins' plans.
But David Cameron says that speed cameras should be more about safety than raising cash.
Mr Cameron says Mr Martins' plan would not be practical since any cash raised would automatically be directed to the Government's coffers for general spending.
This is not Mr Martins' only fundraising idea for his cash-strapped force, which he says faces 20% cuts from its existing budget of £100 million.
He has recently suggested that patrol vehicles could be sponsored by airline easyJet or major local companies. Mr Martins says he is also not above listening to sponsorship offers to put on the county's police uniforms.
But the police chief and others like him should realise that speed camera fines go directly to the Government's central fund, according to the PM's official spokeswoman. Only then can it be handed out through Department for Transport grants.
David Bizley, chief engineer for the RAC, said: "For many years RAC research has shown that a majority of motorists regard speed cameras primarily as revenue generators for the police.
"And it appears that the Bedfordshire Police and Crime Commissioner harbours this view too, or at least he is using this as an opportunity to make a very serious point about resourcing.
"Motorists tell us that they would like to see better enforcement and more roads police officers, but enforcement needs to be prioritised in terms of road safety benefits and not in terms of the value of the revenues generated."
Copyright Press Association 2015