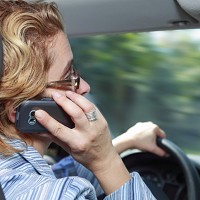 Scotland's leading police officer has promised to target dangerous drivers.
This follows a big jump in the number of offences in the first six months of the new single Police Scotland force.
The crimes include 52,171 of speeding, 25,451 of seatbelt misuse and 20,440 of mobile phone use.
Chief constable Sir Stephen House wants to change the attitudes of risk-taking motorists.
Such behaviours can result in accidents, which can lead to increased car insurance premiums and even injuries.
Sir Stephen told an audience of specialists at the Road Safety Scotland annual seminar in Edinburgh that local communities have raised highway safety as a priority issue.
He said: "Evidence has shown that regular risky and illegal drivers do not acknowledge the risk they present, or view their own actions as illegal or having any real social impact."
A recent report found that nearly three-quarters of all motorists admitted to risky driving behaviour in the past year, Sir Stephen said.
Over half of these admitted to illegal behaviour relating to speeding, mobile phones and seatbelt use.
Copyright © Press Association 2013