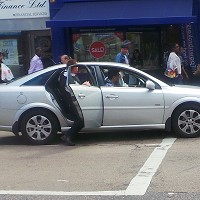 Once a bobby, always a bobby - or so Britain's most senior policeman showed after he broke off from a radio interview to collar a suspected thief.
Met Commissioner Sir Bernard Hogan-Howe took a taxi ride in order to track down someone who had allegedly stolen some cash from the driver.
Sir Bernard later joined the chase in a squad car after a driver made a complaint as the police chief was being interviewed for BBC London.
Sir Bernard later arrested a teenager.
The taxi driver told the BBC that a passenger had taken £20 from his dashboard after a journey. The driver, who gave his name as Mohammed, said he was not aware who the policeman had been, but said he was a "very good, very kind" man.
Sir Bernard previously made an arrest when he was Merseyside Police chief, when he detained a suspected drink-driver in Liverpool.
He has made an arrest at every rank help since he became an officer in 1979.
Copyright Press Association 2014