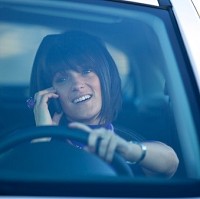 A one-day police crackdown snared more than 300 drivers who were stopped for using their mobile phones while driving.
Of the 331 people caught by police earlier this week, 10 were lorry drivers.
One case involved a taxi driver who was talking on his phone as he circled a roundabout at a time when a group of school children were close by. If the taxi driver was using his phone to help with directions, he could have consulted ajourney planner before starting his route.
In the police crackdown, a man in Tayside, 35, was speeding at 89mph in a zone with a 40mph limit while his two-year-old toddler was in the car. Police also discovered that he was over twice the legal limit for alcohol.
Police also stopped 188 people for not wearing a seatbelt while driving.
Deputy Chief Constable Tom Ewing, spokesman on road policing for the Association of Chief Police Officers in Scotland (Acpos), said: "Despite our efforts to get the message across that using a mobile phone is dangerous and illegal, it seems a number of people are failing to heed the warning.
"They will face the consequences of a monetary penalty and points on their licence, and in the case of lorry drivers may face further action from the traffic commissioner."
The police day of action was held across Scotland from 7am on Wednesday to 7 am on Thursday as part of a campaign to reduce traffic casualties, Acpos said.
Copyright © Press Association 2012