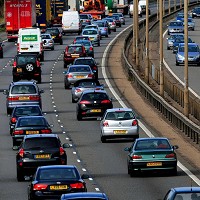 Police in Kent have asked for witnesses to come forward over a number of incidents on the M20 in which airgun pellets were fired at motorists.
A series of incidents occurred between 6pm and 7pm on October 16 on the London bound section of the motorway at the junction with the M26, with one driver being injured.
Police received three reports relating to airgun pellets being fired at cars, something that could cause damage to the vehicle and leaving the owner to make a call to theircar insurance provider.
In one attack, the driver of a Peugeot 206 sustained cuts to his face after a pellet was fired through the front passenger window and the glass shattered. He was forced to pull over on the hard shoulder and call for assistance.
According to the driver, the incident occurred half a mile from the turn off to the A20.
He said that as he drove under a bridge he heard a loud smash but couldn't see what caused the damage to his vehicle.
On the same evening, an Audi A4 was dented on the rear nearside door after it was struck by a pellet, while another vehicle had its rear passenger window broken.
Chief Inspector Jon Kirby said: "I urge all motorists using the M26 to be aware of what has taken place and to report any suspicious activity to police."
Copyright Press Association 2012