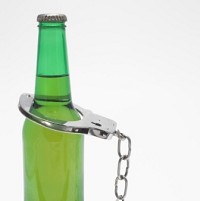 Police in Scotland say they have caught around 150 people driving while over the legal alcohol limit in the past two weeks.
A 28-year-old woman was found driving the wrong way on a roundabout in Inverness, according to police. She was kept in police cells for the whole weekend and has appeared in court over drink-drive offences.
In Arbroath, police say they arrested a 27-year-old man because he failed to stop for officers who claim he was driving dangerously. He was found to be around double the legal alcohol limit and had nocar insurance , police said.
A man, 42, is said to have been stopped on a road in Shetland and was found to be four times the legal limit.
Drink-driving carries a maximum six months in jail and a £5,000 fine for those convicted of the offence.
Police Scotland's Inspector Ian Martin said: "The message could not be clearer: do not drink and drive.
"There will be some drivers who will be tempted to perhaps have just one drink at a friend's barbecue. Remember that home measures can be significantly larger than pub measures and that one drink taken to be sociable could quite easily put you over the limit and leave you with a lifetime's regret. Think of the consequences."
Copyright © Press Association 2013