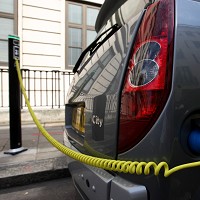 By the year 2020 electric vehicle (EV) charging points will outnumber petrol stations to the power of 10, across just one network.
This is the prediction of POD Point, which claims that its charge points alone will by far outstrip the number of regular fill-up stops.
With just fewer than 9,000 petrol stations currently on the roads, and 1,200 charge bays - described by POD Point chief executive officer Erik Fairbairn as a fraction of what is needed - things look set to change dramatically.
It is thought that EVs will be charged both little and often, in which case a huge amount of points will be required.
These will be situated wherever parking is expected; whether at home, work, or out shopping in superstores, said Mr Fairbairn.
EV owners will be able to tell the firm places where they regularly park but cannot find a charging point, so the company can negotiate directly with the site to install one.
Mr Fairbairn explained: "We help our individual customers through our POD 'Chains'. POD Chains are formed of the charge locations which an individual EV customer parks to complete their normal daily activities.
"Where there is a gap in a customer's Chain, we ask them to inform us and we then approach that location. It is demand and consumer driven, and is a super effective way of growing our network."
Copyright Press Association 2014