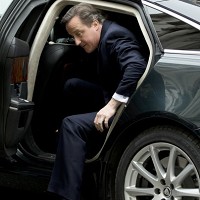 The RAC Foundation is among organisations backing a call to the new Government for improved road safety for young drivers.
The Royal Society for the Prevention of Accidents (RoSPA) has started lobbying ministers to launch a special Green Paper concerning young motorists.
This is in an attempt to reduce the casualty rate among drivers aged between 17 and 24.
The RAC Foundation, actress Glenda Jackson, Lord Jordan the Labour peer, the Motor Insurers' Bureau and Association of British Insurers (ABI) are among those backing the campaign.
RAC chief engineer David Bizley calls on the Prime Minister to consider reintroducing casualty reduction targets.
"Such targets have proven effective in the past, and with the number of children killed or seriously injured on our roads up for the first time in 20 years, now is the time for action to be taken," he said.
"We also call on him to publish the green paper on young drivers, something that was mooted in the previous parliament but never saw the light of day."
Only this January Lord Jordan called for an all-party "radical" solution to reduce the accident toll among young drivers. The peer said that young people represent just one in seven UK-licensed motorists yet account for a fifth of road deaths.
The number of young motorists either killed or seriously injured on the UK's roads in 2013 was 131 and 1,159 respectively.
RoSPA contacted every political party this year, urging them to think about several would-be life-saving moves. These included telematics installation - also known as black box tech - and graduated, or phased, driver licensing for young motorists. It has now refreshed its call.
The charity's road safety head, Kevin Clinton says that, despite travelling fewer miles, younger motorists more commonly experience road crashes than veteran drivers. Mr Clinton urged everyone to work together more closely in a bid to substantially lower the amount of people hurt by inexperienced, new motorists.
Chief executive of RoSPA, Tom Mullarkey called the amount of young lives lost on the UK's road every year as much "too many".
He called for future steps to be "more radical" if the country is to reduce the problem. Mr Mullarkey wants a "comprehensive" combination of supportive steps to better the safety records of road users most susceptible to accidents.
The Green Paper being lobbied for proves RoSPA's commitment to lowering injuries and helping to save lives, he added.
Copyright Press Association 2015
https://www.abi.org.uk/ (Association of British Insurers)