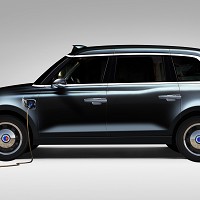 As many as 1,000 jobs could be created by a state-of-the-art, taxi-manufacturing plant in Coventry.
Geely says the £250 million, 85,000 sq-metre, high-tech plant will help to research, develop and assemble a new generation of ultra-low emission electric London Black Cabs.
The Chinese car-making giant, whose models include the world-famous London taxi, intends to have an eventual manufacturing capacity of 36,000 models per year at its new Midlands factory.
This represents a tenfold rise on Geely's capacity at its existing premises where the London Taxi Company has called home for almost seven decades.
The Prime Minister called the move "great news", adding that London's taxis are "iconic" the world over.
David Cameron said the opening will give car workers financial security via regular wages coming in and help secure the UK's long-term economic recovery.
Geely's investment plans clearly show that the country is truly open for trade, Mr Cameron added.
Copyright Press Association 2015