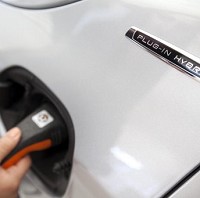 Drivers bought more plug-in vehicles last year than they did in the preceding five years put together, according to new figures.
New plug-ins on Britain's roads hit an unprecedented 28,188 last year, according to the government and car industry-backed Go Ultra Low campaign.
This is 31.1% up on the 21,486 ultra low emission vehicles (ULEVs) sold from 2010 to 2014 altogether and 94% up on 2014's numbers.
The trend shows no indication of flatlining, say industry experts.
They point to the wider availability of choice behind the growth in popularity in 2015, with 30 electric-only or plug-in hybrids currently available across Britain. The stable varies from family run-arounds and high-performances sports vehicles.
This choice is set to expand in 2016, while there are also plans to trial under-road technology which allows drivers to charge their electric vehicles on the go.
In 2015 nearly one in 90 of the 2.6 million people buying a car in the UK opted for a plug-in vehicle rather than a diesel or petrol-fuelled one.
A number of organisations and new technologies are backing the industry.
The new figures also show that plug-in hybrid cars are the most popular ULEVs, with 18,254 new registrations. This represents a 137% jump on the year before. Sales of purely electric motors rose 48% to 9,934.
Go Ultra Low's head Poppy Welch says it is no longer a case of if drivers opt for electric cars, but when they do. She says the sector's unabated growth shows that electric vehicle ownership is becoming normal. Ms Welch says that such vehicles can save drivers sums running well into three figures each year.
Copyright Press Association 2016. Motoring News articles do not reflect the RAC's views unless clearly stated.