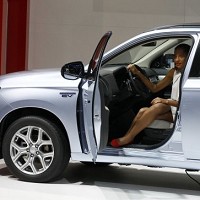 New plug-in car sales have more than tripled in the space of 12 months, official figures have revealed.
The number of people buying a car from this range in the opening half of 2015 has already overtaken those sold in the whole of last year.
January to June 2015 saw a record 14,586 plug-in vehicles bought - a 256% jump on the same timeframe in 2014 when 4,096 were sold.
Go Ultra Low 's new study shows that consumers are coming round to the cash-saving advantages of such models. This is especially the case now that the number of charging points across Britain have grown, easing owners' fears.
Scarcity of choice is also no longer an excuse to avoid all-electric cars, with 35 different plug-ins currently available.
The new official UK-wide drive towards ultra low emission vehicles (ULEV) has been boosted by the Government's pledge to honour plug-in grants throughout the year.
The grants, which date back to 2011, are valued at 35% of a qualifying vehicle's cost up to a ceiling of £5,000.
This year's sharp increase in new registrations comes on the back of a healthy 163% rise from the opening half of 2013 to the opening half of 2014.
The Mitsubishi Outlander is the best-selling electrically-fuelled car on the market, according to the new figures. It has shipped 7,255 models since the beginning of the year.
Then comes Nissan LEAF (2,964) and the BMW i3 . Both have almost doubled their performance on the same timeframe a year earlier.
Ministers forecast that one in every 20 new models will be ULEV ones by the end of the decade. They say that the latest figures keep them on track to hit this target.
Plug-in owners can drive electric vehicles from 2p a mile. This compares to between 10p and 12p for traditional petrol or diesel-fuelled motors. ULEVs now have a maximum range of 700 miles (1,126.5km) on one charge.
The Government is pouring £500 million between now and 2020 to help place the UK at the forefront of plug-in car technology.
Copyright Press Association 2015
https://www.goultralow.com/ (Go Ultra Low)
i3%20http:/www.rac.co.uk/buying-a-car/car-reviews/bmw/i3 (BMW i3)