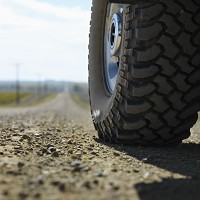 A new and potentially life-saving pledge to keep drivers safe this winter has been launched by TyreSafe.
The '20p' pledge is designed to be part of October's tyre safety month and aims to ensure that drivers check their tyre tread with a 20p coin. Visitors to the TyreSafe Facebook page will be asked to commit to completing the test within the next seven days, and then share their promise online.
The chairman of TyreSafe, Stuart Jackson, said that the initiative was a great way for drivers to ensure that their tyre tread is safe and legal.
Jackson added: "Adequate tread is essential in providing better grip and shorter stopping distances in the wet, as well as helping to reduce the risk of aquaplaning." He hopes that the pledge will reduce the number of accidents caused by unsafe tyres.
Tyres are designed to remove water from the road while remaining in close contact. As well as helping to remain safe, checking the tread is intact will also reduce the likelihood of incurring a flat tyre and calling upon yourbreakdown cover .
Copyright Press Association 2012