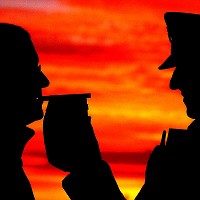 The Government has announced plans to shut a loophole in the drink-drive testing procedures.
At the moment drivers registering a breath test reading above, but near to, the legal limit have a statutory right to a replacement blood or urine test.
The procedure enables motorists to sober up while waiting for the sample to be taken but road safety minister Stephen Hammond has announced that the Government will be consulting on proposals to remove the statutory right to a replacement test.
Other proposals include giving registered healthcare professionals bigger roles in testing suspected drink-drivers and removing the requirement for a preliminary breath test when roadside evidential testing is used.
Currently suspected drink-drivers pulled over by police take a preliminary breath test before being taken to a police station for a test that can be used as evidence. But, if adopted, the new plans would mean the police could perform evidential tests using mobile devices at the roadside, where tax andcar insurance details would also be checked, without a preliminary test having to be conducted.
Copyright © Press Association 2012.