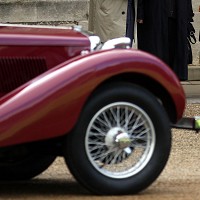 Car enthusiasts owning classic and historic vehicles will no longer have to put them through the MoT under new Government plans.
Roads Minister Mike Penning said that as part of efforts to cut red tape vehicles which rolled off the production line before 1960 will be made exempt later this year.
The plans will kick in from November 18, leaving such motorists with a bit of extra cash forcar insurance for their treasured possessions.
Figures show that vehicles manufactured before 1960 are involved in 0.03% of accidents and injuries on UK roads.
Mr Penning said: "We are committed to cutting out red tape which costs motorists money without providing significant overall benefits.
"Owners of classic cars and motorbikes tend to be enthusiasts who maintain their vehicles well - they don't need to be told to look after them, they're out there in all weathers checking the condition of the engine, tyres and bodywork."
However, Penning went on to say that owners of classic vehicles will still by law have to make sure they're in a good enough condition to be on the roads.
Copyright Press Association 2012