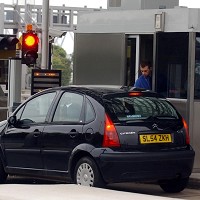 The CBI has put forward proposals for road charging and tolls for motorists on some major English routes to ease the burden of congestion.
Under the "bold measures", users would have a proportion of their motoring taxes converted to a user charge to allow access to the strategic road network comprising England's motorways and major A roads.
This charge - which would be controlled by an independent roads regulator - would provide a funding stream for private operators who would be responsible for operating regional sections of the network. However, drivers could try and avoid such charges byplanning their journey around the tolled roads.
But the CBI, who suggested the English road network should be taken out of the Government's budget, claimed the charge may not provide the levels of funding needed to finance large capacity projects in the long-run.
This could lead to private operators bankrolling such projects through long-term borrowing, which could result in tolling above a standard charge. The regulator would continue to cap charges and manage the overall cost burden on drivers.
The CBI said private investment was now a necessity because of a £10 billion shortfall in funding for Highways Agency projects.
Copyright Press Association 2012