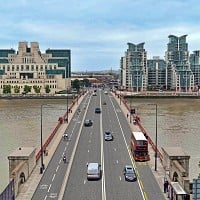 A segregated "superhighway" for cyclists could spell the end for a gyratory system in London which has earned a reputation for being dangerous.
Newly-published plans for the continuous two-way and separated east-west track show that it would be built from Kennington Oval to Pimlico and go through where the Vauxhall gyratory currently sits.
The gyratory is notorious in London and has been described as the "nastiest" in the capital by Mayor Boris Johnson's cycling commissioner, Andrew Gilligan.
A consultation on the new scheme has been launched and will run until September 14.
It will make space on the gyratory, allowing cyclists to travel north and south using different lanes. The plans show that there will also be extra space for pedestrians.
Work on the scheme will start next winter subject to feedback from the consultation.
There have been several accidents at the Vauxhall gyratory in recent times.
Copyright Press Association 2014