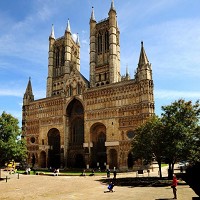 Plans for a new bypass in Lincoln are dividing the local community.
Drivers setting their journey planners to the city could one day find traffic eased by an Eastern Bypass, if county councillors get their way.
But some locals are against the plans and want the road bridge in the original scheme to be reinstated. In fact, campaign groups for and against the project have sprung up.
Lincolnshire County Council politicians told day one of the second inquiry into the £92 million road that its approval is key to the community's economy.
There has already been one inquiry into the bypass, which would join the Wragby Road (A158) to the Sleaford Road (A15).
The Government turned down the original plan in July of last year, citing safety concerns about the bridge as the reason, particularly as regards access for cyclists and horses.
Ministers spared the controversial bypass from spending cuts, but it survived in a watered-down form.
County councillors told the latest inquiry that the bypass would free land for industry and new homes.
Objectors at the inquiry are likely to demand that the Hawthorn Road-based road bridge becomes factored back into the plans. The new plan sees the road bridge replaced with a new pedestrian bridge.
This would leave less direct access for cars and lorries approaching from adjacent villages into Lincoln city centre. The redesigned bridge still would not be accessible to cars and lorries.
County councillor Richard Davies, who is responsible for roads, called the scheme a "great" one for Lincoln. But he says not everyone can be kept happy at the same time, although they are correct in coming forward to express their views and worries.
Cllr Davies says the county council designed the project as "safely" and "carefully" as it could and a neutral inspector agreed with the big decisions.
Copyright Press Association 2015