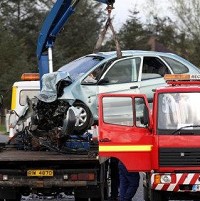 People claiming compensation after road accident injuries will not have to wait years for their money under new measures from the Government.
Strict time limits and fixed legal costs would be imposed on every stage of the compensation system for personal injury claims between £1,000 and £10,000, when the plans are introduced.
Standardised claims forms will speed up decisions by cutting out duplication under measures set out by the Ministry of Justice, which should come into force next April.
Around 80% of all claims will be affected by the change, which lowers legal fees from 40p in every £1 to a maximum of £1,200 or £1,700 depending at which stage a claim is settled.
Slashing the average compensation wait from two years to within six months will allow about 400,000 claimants a year to get their payments faster, said the Association of British Insurers (ABI).
Nick Starling, the ABI's director of general insurance and health, said: "The ABI has long argued for a simpler, more streamlined compensation system that works in the interests of consumers, so we completely support the announcement.
"This new process will cut down on delays, and reduce the high legal costs that are paid for through motor insurance premiums."
Copyright © Press Association 2009