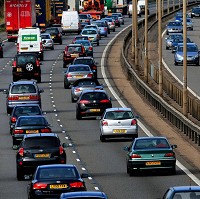 The 13 million drivers expected to take to the roads this half-term are being advised to carefully plan their journeys , with more wet and windy weather forecast for parts of Britain.
According to the RAC, some four million motorists will begin their getaway on either Thursday or Friday.
Saturday and Sunday also look likely to be busy, with estimates putting a further three million on the roads, and more than two million extra people behind the wheel on Saturday November 1.
RAC roadside operations manager Matt Dallaway said: "More wet and windy weather is expected, so we're warning people to plan ahead and be prepared.
"Drivers need to be careful not to get caught out in what could be tricky road conditions, so they should check their tyre pressures, tread, oil, coolant and screen wash before setting off. We would also recommend having a first aid kit, reflective warning sign and a fully-charged mobile phone to hand."
The week-long school holiday has also seen a rise in the number of people booking a coach break, with National Express saying more than 160,000 passengers have bought tickets for this period - a 5% bump on last year.
The most popular destination is London, it said, followed by Stansted and Heathrow airports, Birmingham, Manchester and Bristol, and the most popular travel day will be Sunday October 26, where 22,000 journeys have been booked.
The airports are also expecting a busy time, with Gatwick forecasting some 509,000 passengers will depart over the week.
November 2 is also anticipated to be a full-on day for the airport with 60,000 holidaymakers making their way back home.
Barcelona, Dublin, Tenerife, Amsterdam and Orlando in Florida are the top overseas choices for a holiday this October half-term.
Copyright Press Association 2014