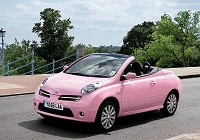 Colour continues to play an important role in the value of a car when it comes time to sell according to research from a used car website.
Carsite.co.uk questioned more than 1000 car buyers and discovered that pink is the least desirable colour choice in the UK, meaning cars in the controversial colour are worth less on the used market.
In all, 29% of those questioned considered pink to be the worst possible colour choice for a car, followed by brown at 16 per cent and gold at 13.7%. Interestingly, white was the sixth least popular colour choice with 6.5% of the vote, despite a recent surge in popularity meaning one in 12 new car sales are currently white.
Silver, blue and black are by the most popular colours when it comes to the used market.
"Choosing your car colour wisely can pay dividends when it comes to trading in your vehicle." said Alistair Jeff of Carsite.co.uk.
"Conservatively toned models will traditionally achieve a higher resale value than their more vibrantly coloured counterparts. Even so, those who have invested in pink versions of small and funky cars like the Nissan Figaro, Ford Street Ka or Mini should have no problem attracting buyers in what is a niche but popular corner of the market."
Copyright © Press Association 2009