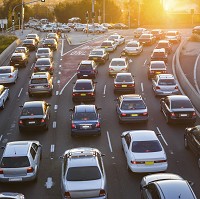 Congestion and journey times could be cut significantly over the next half year thanks to a government programme tackling 'bottlenecks' across England's road network.
The £317 million Pinch Point programme focuses on 121 areas across England where traffic flows particularly badly or is regularly held up at peak times.
The plans, part of the biggest road enhancement programme since the 1970s, will come as a relief to motorists, especially daily commuters often held up by poorly-planned bottlenecks.
Roads Minister John Hayes said: "Every one of these pinch point schemes will deliver benefits to thousands of drivers.
"Some of the benefits are immediate, such as improved road markings to help traffic flow better through a junction; in other cases the roads are being improved now so they can accommodate local development in the future."
It isn't only road users that will benefit from these new plans. Mr Haynes believes the advantages will be felt across the board.
He added: "The completed schemes will together help support the creation of more than 300,000 new jobs and 144,000 new homes, so it's good news for road users, for local communities and the economy."
Copyright Press Association 2014