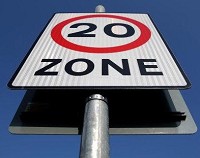 Motorists in Scotland are to pilot a new scheme that uses "intelligent speed adaptation" (ISA) devices to prevent drivers from speeding.
Part of a new road safety strategy, the aim over the next decade is to reduce serious injuries by half and road deaths by 40%.
Details of where the pilot ISA scheme is to take place, who will be involved and when it will be introduced have not yet been announced, but the system is likely to be "voluntary", meaning the driver can override it.
The ISA is likely to involve a GPS system and an onboard computer which will automatically slow a speeding vehicle to the local speed limit, officials said.
They added that research published by the Westminster Government last year showed this reduced speeding "in almost every category of user".
Announcing the plan, transport minister Stewart Stevenson said that the wider strategy will include examining the case for restrictions on newly qualified drivers - such as limits on the number of passengers, engine size, and speed.
It also includes proposals to encourage local councils to introduce 20mph zones in all residential areas, and improving school bus safety.
Copyright © Press Association 2009