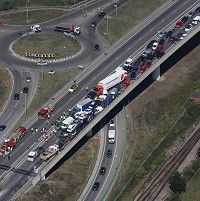 Thirty-two drivers involved in a 150-car pile-up have been offered the chance to attend a driver awareness course instead of facing court.
Inspector Martin Stevens, head of Kent Police's serious collision investigation unit, said the course option would be of greater benefit than prosecutions.
The decision came after a four-month investigation into the pile-up on the Sheppey Crossing on September 5 last year, which saw eight people seriously injured and 200 others treated at the scene.
The incident, the biggest accident in thick fog in living memory, started at around 7.15am and continued for 10 minutes as cars and lorries collided with each other.
While visibility on the bridge was down to 25 yards and fog was found to be a factor in the pile-up, specialist collision investigators said some motorists were not driving in accordance with the conditions.
Some motorists were reported to have been driving "like idiots" before the crash, which resulted in the crossing being shut for more than nine hours and many motorists calling upon theirbreakdown cover .
Mr Stevens said it was "quite simply a miracle" no one was killed in the incident.
The self-funded one-day course offered to the 32 drivers involves attending an interactive classroom session followed by a supervised drive in front of an instructor.
If the drivers do not take up the offer, they will automatically be summoned to court, a Kent Police spokesman said.
Copyright Press Association 2014