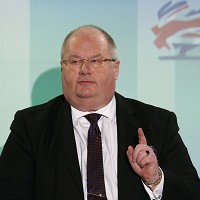 A Cabinet minister has slammed "over-zealous" parking rules which restrict homeowners from renting out their driveways without planning permission.
Local Government Secretary Eric Pickles has vowed to remove the red tape and application costs of up to £385, thus boosting the income of householders with space to spare, and solving the problem of a shortage of parking areas within city centres.
Mr Pickles said: "Councils should be welcoming common sense ways that help hard-working people park easier and cheaply and for families to make some spare cash.
"Councils shouldn't be interfering in an honest activity that causes no harm to others, unless there are serious concerns.
"Parking charges and fines are not a cash cow for town halls. This government is standing up against the town hall parking bullies and over-zealous parking enforcement."
The practice of renting out drive space has become more popular following the launch of websites to advertise available off-street parking near town centres, train stations and sports grounds.
A spokeswoman for theDepartment for Communities and Local Government said: "This provides a small income for hard-working families and helps provide more cheap parking spaces for people to park their car, taking pressure away from on-street parking."
Copyright Press Association 2013