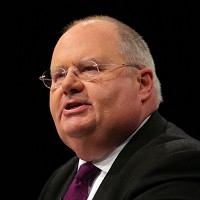 The Government has "passed the test of protecting children" by allowing the use of CCTV cameras outside schools, Eric Pickles has said.
The Communities Secretary was forced to defend the initiative - which keeps watch on dangerous parking - after shadow secretary for communities and local government Hilary Benn accused Mr Pickles of a "U-turn" on the measure.
Mr Benn pointed to comments by Mr Pickles during a radio interview last year saying he would ban the use of CCTV.
However, Mr Pickles said the Government is not adverse to cameras being in force if it is not possible to have an enforcement officer on duty.
Mr Benn asked: "When are you going to realise that gimmicks in search of a headline is no substitute for policy that can actually be implemented?"
Responding to the shadow secretary's question, Mr Pickles said the Government's stance follows the outcome of a consultation.
He added: "The House always enjoys your Lady Bracknell impersonation. So basically, what you are saying is I am guilty for consulting on this, listening to the consultation and implementing what the consultation wants. That seems to me to be a fairly reasonable way for a democrat to behave."
A Local Government Association spokesman said an outright ban on the use of CCTV would have been "hugely detrimental" to road safety.
Copyright Press Association 2014