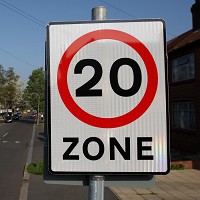 Communities Secretary Eric Pickles has backed the idea of "home zones" - where lower speed limits would allow children to play safely in the streets.
Mr Pickles said he is "very much in favour" of the designated areas which enforce a 20mph speed limit to allow more children to play outside.
The Conservative MP, however, did tell local authorities that they should be careful when deciding which areas should be subject to a 20mph limit.
Islington Council in Greater London has introduced a "universal" 20mph zone on its roads and Mr Pickles described such a move as "unreasonable", adding that it brings the law into contempt.
Mr Pickles cited Tower Bridge in the capital as an example of a "reasonable" 20mph speed limit enforcement zone.
The MP told Sky News that the design and structure of Tower Bridge made a 20mph limit a sensible decision, adding that it would be dangerous to travel any faster than that.
Copyright Press Association 2015