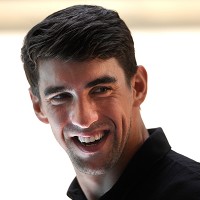 Michael Phelps has issued an apology on Twitter after he was caught drink-driving and speeding in Baltimore, US.
The swimmer, who has won more Olympic medals than any other athlete, was arrested at the Fort McHenry Tunnel on Tuesday after police spotted him driving at 84mph in a 45mph zone.
Phelps confirmed that he was held by police for driving under the influence, crossing double lane lines and speeding on Tuesday morning, adding that he understood "the severity" of the incident.
The 29-year-old, who has since been released, wrote on Twitter that he takes "full responsibility" for what happened.
He went on to admit his statement "may not mean much right now" before saying how "deeply sorry" he is to everyone he "let down".
Phelps, who is from Baltimore County, was arrested for a similar drink-driving offence in Maryland 10 years ago after he was spotted driving in the Eastern shore area.
Copyright Press Association 2014