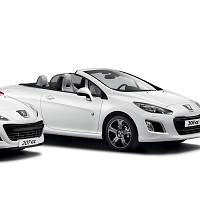 It's not always black and white when choosing a car, but it is with the new special edition Peugeots.
Two unique models of convertible, based on the 207 CC and the 308 CC, were recently shown by Peugeot and will only be released in black or white.
Each car from these models, both called 'Roland Garros', will have different features on the trim, making each one unique.
While the cars are already unique when purchased, there are also several options for upgrades and added features for the driver to buy.
For example, the 207 CC can be upgraded to include leather seats, a wind break behind the seats and special 'Roland Garros' embellished mats. It can also come with either a petrol or diesel engine.
Other features available are 17-inch 'Melbourne' alloy wheels, cruise control, tinted rear windows, smart wing mirrors which can be tucked in, and Peugeot Connect which has Bluetooth connectivity, just to name a few!
The 'Roland Garros' name comes from the annual French Open tennis tournament in Paris and has featured as the name for Peugeot special editions in the past.
Copyright Press Association 2012