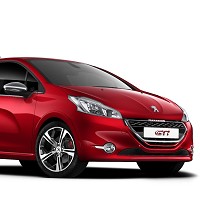 Peugeot has unveiled the first pictures of the new 208 GTi, which will go into production shortly.
An attempt to "regenerate the legend" of the 2005 GTi, the 1.6lt turbocharged THP petrol engine will produce 197bhp and 203lb ft of torque.
At a lightweight 1160kg, the 208 GTi will lack the power of cars like the 246bhp Ford Focus ST, but it retains an impressive 170bhp per tonne power-to-weight ratio.
The interiors feature a flat-bottomed steering wheel, aluminium pedals and sports seats, while the 208 GT will come fitted with 17" diamond carbon wheels.
A reworked exhaust system is designed to give the car a distinctive "symphonic" tone, while it will be able to do 0-62mph in less than seven seconds.
All Peugeot's cars come with a contractual warranty, but drivers will still need to take ourbreakdown cover in case of emergencies.
Copyright Press Association 2012